Doctor
Although away from Atlanta since Emory University School of Dentistry graduation, Dr. Anderson kept his Georgia dental license active since 1975. The reasons were twofold. First was military service from 1971 through retirement as a full Colonel in 1994. The then Lieutenant Anderson received acceptance to a highly competitive military scholarship program to attend Emory, but the Air Force never allows anyone to stay in one place for long. Second, he loved Atlanta and hoped to return one day which has indeed happened.
Dr. Anderson began a three year prosthodontic residency at University of Texas Houston and received a postdoctoral M.S. in 1980. After practicing full range prosthodontic procedures for over 20 years in both the military and private practice, he has sub-specialized in dentures, partials and implant retained dentures since 2002. When asked about the reason for this subspecialty choice, he says it is his "true calling".
Facial expressions are often viewed as windows into one's soul. A pleasing smile is a vital part of self esteem and overall quality of life. It continoues to be my privilege to serve not only a person's chewing needs, but their cosmetic desires as well.
John and his wife Sheron, along with their Westie named Bella, have settled in Buckhead to again experience an active big city lifestyle, after living on Jacksonville Beach for the past 13 years. Personal interests include travel, physical fitness and healthy organic cooking. But most of all, they enjoy spending time with family and their two grandchildren, Alycia and Tyler.
Doctor
With roots deep in Georgia, you may not know that Dr. Berne was born in Miami and raised in South Florida. His compassion and professionalism come naturally as his father is also a dentist and his sister is a dental hygienist. Dr. Berne attended the University of Georgia from 1982-1986, but returned south to do his graduate work at the University of Florida. A short period of private practice from '90-93 convinced him his heart and talents were best utilized in helping patients with dentures, partials and implants. Warren Berne, DMD, returned to the University of Florida School of Dentistry to complete his residency in Prosthodontics (an additional two year study) and began his specialization in removable prosthodontics in 1995.
Dr. Berne opened the current practice of Georgia Dentures & Implant Specialists in 1996. As one of only 3,200 prosthodontists in the United States (compared to 170,000 general dentists), Dr. Berne's specialization in removable dentures, partials and implants, is a welcome and unique resource for Atlanta and North Georgia.
Our practice is patient focused, not production oriented. The bulk of our patient base is 50-70+ years of age and our patience, compassion and genuine interest in them and in restoring their smiles and confidence is what we believe is the distinguishing mark of our office.
When you ask Warren Berne to describe his family, a large smile covers his face and his firstword is "awesome!" Dr. and Mrs. Berne have been married for over twenty five years and are proud parents of two children currently at the University of Georgia, and one in grad school. The Berne household is busy with travel, family time and all that goes with being a UGA supporter. Come by the Georgia Denture and Implant Specialists office any Thursday to see the doctor and staff in college logo scrubs (spoiler alert, there is a lot of red and black in this office!)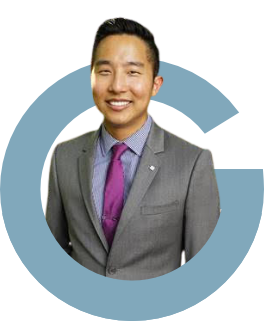 Doctor
Raised in Statesboro, Georgia, Dr. Yoon became interested in dentistry as a teenager. He earned his bachelor's degree in Biology from the University of Georgia in 2010 (Go Dawgs!). His dream of becoming a dentist came true when he received his D.M.D. (Doctor of Dental Medicine degree) from the Dental College of Georgia in 2015. Dr. Yoon's desire to learn did not end with graduating from dental school. In 2018, he completed a 3- year residency program in Advanced Prosthodontics at the Dental College of Georgia. During his residency, Dr. Yoon received advanced training in removable and fixed prosthodontics, esthetics, implants and rehabilitation of patients with complex dental conditions. In addition to serving as the chief resident, he also taught denture concepts and techniques to dental students as a resident faculty member. Dr. Yoon chose to specialize in Prosthodontics so he could treat patients with missing or failing teeth. He wants to provide patients with the highest level of functionality, comfort and most importantly, a beautiful and natural smile!
The best part of our profession is that we get to restore someone's smile and quality of life. It's amazing how a new smile can transform a person. We also meet incredible patients and develop long-lasting relationships. I believe in patient-oriented care and that means treating them like family.
In his free time, Dr. Yoon and his wife enjoy traveling. Their dream is to visit every continent and experience new cultures from all around the world. They enjoy cooking and trying new cuisines. Dr. Yoon used to be a dance instructor and choreographer and still enjoys dancing to his favorite tunes around the house. He and his wife have a mix-breed dog named Indy who loves going out for long walks.